It's quite clear that Skype has been more business-oriented lately, even without the business app. With over 300 million users, Skype has become one of the most important communication tools available. In the tech world, because of its impact and use, Skype is one of the very few brands that got verbalized: to skype. In today's world, communication mobility has become essential not only for regular users who have friends and family all over the world, but also for businesses. Important meetings can come up at any time, and Skype is a great option that can make you productive on any device.
With a dedicated Windows phone app since July, Skype for business for Android and iOS debuted about two months ago. Today's announcement revealed that the Skype for business app for iOS is now publicly available. The company mentioned that the Android dedicated app is still in development, and it will be available by the end of the year.
iPhone users with Lync 2013 will be automatically updated to the Skype for Business app. Besides a number of impressive features, the app also fixes sign-in issues that some Lync users encountered. Formerly known as Microsoft Office Communicator, Lync uses a Microsoft server, and has a dedicated enterprise infrastructure with instant messaging, conferences, VoIP, and others. Building on the same capabilities of Lync, Skype for Business includes content sharing and telephony. The key to success in any app seems to be simplicity. The developers revealed that transferring and joining a call now takes only one touch/click instead of three. App users will appreciate anything that simplifies their efforts. According to the official Skype for Business iOS app press release, the simplification of joining a call is one of the most important new features. An updated dashboard brings the contact search bar, your upcoming meetings and most-recent conversations to one place. The contact search bar allows you to search your Global Address List by first name, last name, email alias or phone number. Regardless of the used device, all your recent conversations are now at your fingertips. You can also easily glance at your upcoming appointments—simply tap on the left for the meeting details or on the icon on the right to join immediately.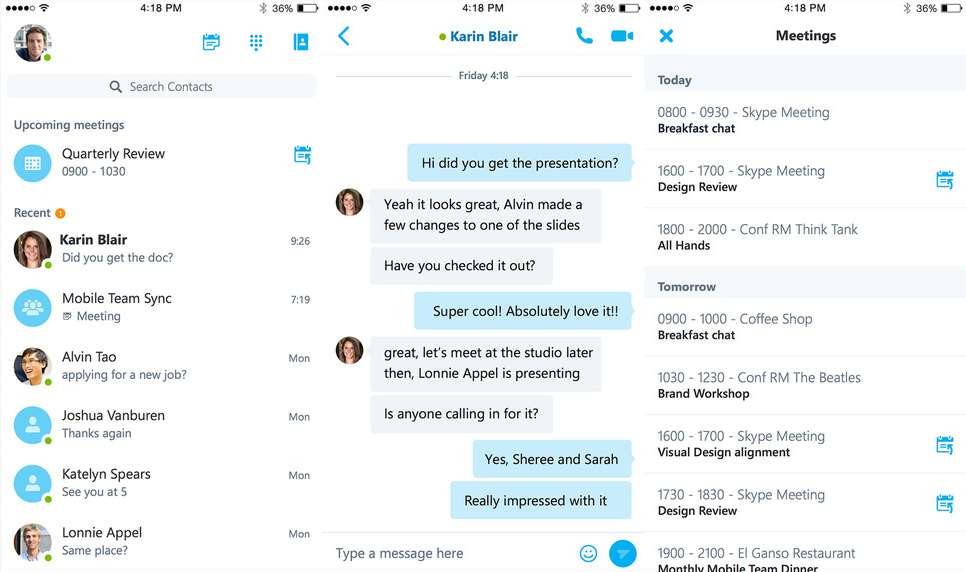 Another important new feature is the enhanced in-meeting experience. Besides the full-screen video that makes every meeting better on any device, the larger important buttons (mute and add) make every action easier, even if you are on the move. The simultaneous viewing feature is also pretty impressive. Some content might have gotten lost along the way before, but the Skype for Business app makes sure you never miss anything from the conversation – video or text/content.
A future update will give users the ability to view PowerPoint slides directly in the meeting. The only option for the moment is still via screen sharing.
Security is important for any software, so additional authentication and security options can only make the app more trustworthy. Office 365 customers can now take advantage of Active Directory Authentication Library (ADAL)-based authentication.
Microsoft explained in the official press release: This enables your IT admin to configure multi-factor authentication for the Skype for Business iOS app, increasing the security beyond just a user name and password. With multi-factor authentication, users are required to acknowledge a phone call, text message or an app notification on their device after correctly entering their user name and password. Other Office applications also support ADAL-based authentication, which allows for consistent authentication across your organization. Learn more about setting up multi-factor authentication using ADAL.
Skype has become very important for the Microsoft ecosystem, and it will be built in all the future products. So far we can only experience it in Office 365 and mobile apps, but it's safe to say that a Windows built-in version is probably the next logical step.
If you want to upgrade to the new app, the new Skype for Business iOS is now available as a Universal app in the iTunes Store. As we mentioned before, iPhone users with Lync 2013 will automatically get updated to the Skype for Business app. iPad users that want to switch from Lync 2013 to Skype, need to download the new Universal app from the iTunes Store. IT admins should use the Skype for Business iOS productivity guide to learn more and prepare their users.
Even if Microsoft didn't mention a release date yet, users that are still expecting the release of the app – Android users for instance, can join the Skype for Business IT Pro Yammer community to subscribe to the upcoming product updates, interactive Skype broadcast sessions with the product team, and learn from the community. Regular announcements and updates will keep you posted on all the upcoming releases.